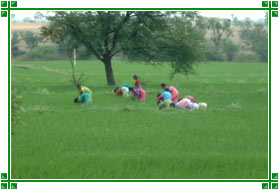 Kurnool, situated on the southern banks of the Tungabhadra and Handri rivers, has been the capital of Andhra Pradesh for three years from 1953 until 1956. It is said that the Odders who were carting stones for the construction of the temple Alampur used the site as a halting place before crossing the Tungabhadra. They bought oil here to grease their cartwheels and called it 'Kandanavolu', which became Kurnool with time. The most well known even of the city is the car festival of Sri Ajaneyaswami, which is celebrated for eight days from Margasira Suddha Triodasi, which usually falls during November-December, is one of the most important festivals and is also well-attended.
The highlights of the city are the historical ruins of a royal fort belonging to the times of the medieval kingdom of Vijayanagar from 14th to the 16th century. It houses several Persian and Arabic inscriptions throwing light on various aspects of historical interests noted here. The Kondareddy Burz protected under the Ancient Monuments Preservation Act, the early-17th century tomb of Abdul Wahab on the banks of River Handri, the remains of the palace of Gopal Raju, the last Hindu rulers of Kurnool and the temples of Nagareswarasawami, Peta Anjaneyaswami, Venugoplaswami, Iswaraswami, Saibab and Birla Mandir or Stayanarayaswami, are the place that one should not miss while at Kurnool.
Kurnool Tourist Attractions
The fort belonging to the Vijayanagar Empire is now in ruins. Standing atop the five rocky-granite hills, it houses Jama Masjid, a classic example of Islamic architecture.
How to Reach Kurnool