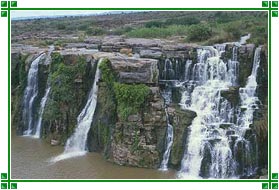 Thousand Pillar Temple
:
Fine example of Kakatiya architecture and sculpture, it was built by Rudra Deva in 1163. The star-shaped temple has three shrines dedicated to Lord Shiva, Vishnu and Surya. It is famous for richly carved pillars, delicate screens, elaborate and detailed sculpture and the black basalt monolith of Nandi along with a lovely polished finish.
Bhadra Kali Temple
:
Known for its eight-armed stone image of Goddess Kali, it is situated on the hilltop.
Warangal Fort
:
12 km from Hanamakonda, the Kakatiya king, Ganapati Deva and his daughter Rudramma, built the 13th century Warangal Fort. The ruins now display the four huge stone gateways and several exquisite pieces of sculpture.
Jain Mandir
:
The 2,000-year-old Jain temple of Mahaveer is embellished with beautiful images of Thirthankaras and 5 ft high Jade image of Mahavira.
Sri Veeranarayana Temple
:
The temple constructed in the Chalukyan style around 1104 was originally a Jain temple that was converted into a Vaishnava shrine.
Someshwara Temple
:
Someswara III the Kalyani Chalukya emperor is said to have constructed this temple featuring rare specimens of architecture and sculpture of the western Chalukyan period.