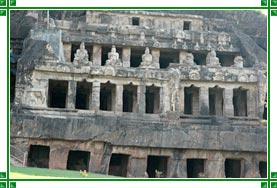 Bhavanarayanaswami Temple
:
49 km from Guntur, Bhavanarayanaswami temple at Bapatla is dedicated to Lord Bhavanarayanaswami, who came to be known as Bapatla with time. It is the most ancient and famous of all the temples in Guntur district and is of immense historical and architectural importance.
Buddhist Relics And Lord Amareswara Temple
:
35 km from Guntur, Amaravati is home to the famous shrine of Amareswara Temple dedicated to Lord Shiva and the world-famous Buddhist sculptures. The three most sacred things here are Krishna River, an important 'Kshetra' with a 'Sthalamahatyam' and 'Sri Mahalinga Murthy', said to be the embodiment of the three sacred principles as one.
Undavalli Caves
:
32 km from Guntur, the Undavalli caves located in the village of the same name display solendid rock-cut architectural and sculptural beauties. They are situated in a high hill overlooking River Krishna.
Lam
:
8 km from Guntur on Guntur-Amaravati road, Lam is known for its Agricultural Research Station, the Government Livestock Farm and the Chillies Research Station. Another attraction here is the Bhairavakunta tank and a small stone at its side exhibiting nine idols, an image of Vinayaka and a brass image of Anjaneya along with an inscription in Sanskrit in ancient characters carved on a boulder.
Lord Narasimha Temple
:
19 km from Guntur, the renowned temple of Lord Narasimha is located on the Hillock at Mangalagiri. The uniqueness lies in the belief of the devotees that the deity accepts only half of the quantity of the 'Panakam' (a solution of jaggery in water) offered by the devotees, irrespective of the quantity offered.
Nallapadu
:
5 km from Guntur, Nallapadu or Narasingapuram named so after the temple of Narasimhaswami is situated on a hillock and is known for some ancient temples. The Agastheswaraswami temple featuring a decorated 'Dhvajastambham' (flag pole), carvings of five hooded `nagas' (Serpents) and idols of Siva and Bramaramba, his consort and the temple of Sankaracharya is said to belong to the ancient times.
Pondugala
:
11 km from Guntur, Pondugala has several temples. However, most important and famous of all is the Gantala Ramalingesvara Swami Temple containing some inscriptions on its pillars in Pali. There is another temple at Bobbanagi in the nearby hamlet of Iyyagaripalem situated on the banks of Dandivagu, contains two inscriptions in Sanskrit and was declared a protected monument.