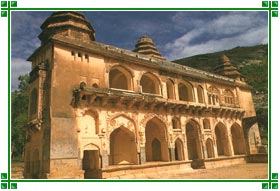 Prakasam Barrage
:
Completed in 1957, the Prakasam Barrage is built across Krishna river andis 1223.5 m long. Its panoramic lake and three canals runs through the city giving it a beautiful appearance.
The Gandhi Stupa
:
The 15.8 ft Gandhi Stupa stands on Gandhi Hill or Orr Hill. Dedicated to Gandhiji, it has the teachings of Gandhi inscribed on stone slabs, Gandhi memorial Library, sound and light show and planetarium. It also offers panoramic views of the town below.
Hazratbal Mosque
:
Hazrat Bal Mosque, a site of religious significance in Vijayawada, enshrines a holy relic of Prophet Mohammad, which is displayed once a year.
Mogalrajapuram Caves
:
The Mogalarajapuram caves having three cave temples dating back to the 5th century, enshrines the idols of Lord Nataraja, Vinayaka and other deities. However, the Ardhanareeshwara Murthy is considered only one of its kind in Deccan India.
Akkana and Madanna Caves
:
The rock-cut caves are dedicated to Akkana and Madanna, the ministers of Abdul Hasan Tanashah in the 17th century. Another 2nd century cave enshrining the Hindu trinity of Brahma, Vishnu and Maheshwara is situated nearby.
Rajiv Gandhi Park
:
An educative park containing built-up structures of dinosaurs and pre-historic animals, it also has a musical fountain.
Victoria Jubilee Regional Museum
:
The Museum of the Archaeological Department exhibits beautiful sculptures and attractive paintings. The highlights are the 'Buddha' Alluru inscriptions of first and second centuries and Mahishasura Mardhani.
KanakaDurga Temple
:
Kanaka Durga is the presiding deity of Vijayawada. Situated on the Indrakiladri hill, the idol of the deity is said to be Swayambhu or self-manifested. It is said that Adi Shankaracharya visited the temple and installed the Sri Chakra here.
Malleswaraswami Temple
:
Next to the Kanakadurga temple, the shrine of Malleswara Swamy, also known as Mallikarjuna or the Malleswara, is said to have been founded by Yudhishthira, the eldest of the five Pandavas, as a token of their victory of the South.
Vijayeswara Swami Temple
:
The Vijayeswara temple is said to have been installed by Arjuna to commemorate his victory over Lord Shiva in the form of 'Kirata' (hunter).