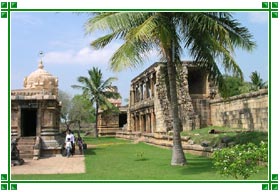 The Shrine Of Sri Subramanya
:
The 7th century shrine of Sri Subramanya is often referred to as an exquisite piece of decorative architecture to be found in the south of India and a perfect gem of carved stonework with delicate and elaborate patterns. Built in Dravidian temple architectural style, this temple consists of a 55 ft high tower, raced on a 45 sq ft base. The portraits of the Mahratta rulers adorn the walls of the pillared Manadapam.
The Shrine Of Ganapati
:
The shrine of Ganapati belongs to the time of Sarfoji II and enshrines seven images of Ganapati set up by Rajaraha Chola. 2 of the images are in the dancing posture, 3 are seated comfortably while the other 2 are just standing.
The Shrine Of Chandeeswara
:
The shrine was built in the honor of Chandeeswara, one of the 63 Saiva saints who was made the chief of Saiva devotees by Lord Shiva. He is believed to be the manager of the temple and it was considered mandatory to appear at the Chandeeswara shrine before leaving the temple premises and clap one's hands evidently to satisfy the God that no one is taking away any temple property with him.
Thanjavur Palace
:
Near the Brihadeeshwar temple, this palace was partly built by the Nayaks in 1550 and partly by the Marathas. It has gigantic halls, spacious corridors, observation and arsenal towers and a shady courtyard. It is in ruins now but enclose Though many sections of the palace are in ruins restoration work has been taken up. The palace houses a library, a museum and an art gallery.