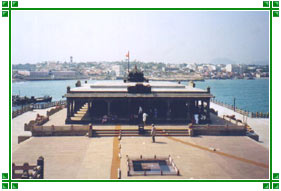 Kumari Amman Temple
:
Kumari Amman Temple dedicated to Goddess Parvati as Devi Kanya (the Virgin Goddess) is an important shrine here.
Temple Of Goddess Bhagavathi
:
Goddess Bhagavathi Temple in Kanyakumari is picturesquely located at the confluence of the three oceans - the Indian Ocean, the Bay of Bengal and the Arabian Sea. Originally built by Pandyas, it was expanded later by Nayaks. The image of the Goddess in the sanctum looks serene and beneficent. The eastern gate of the temple facing the Bay of Bengal is opened only five times a year.
Swami Vivekananda Rock Memorial
:
The memorial was erected to commemorate the evening of December 25, 1892, when Swami Vivekananda visited Kanyakumari as a pilgrim and swam to the rock in the sea and spent the whole night there in deep meditation. Only after that, he resolved to serve his Motherland and spread the message of Vedanta.
Gandhi Mandapam
:
It enshrines the spot where the urn containing the ashes of Mahatma Gandhi was kept for public view before immersing its contents in the three seas. Built like an Oriyan temple, the uniqueness in its construction lies in the fact that on October 2nd, Gandhiji's birthday, the sun's rays fall on the place where his ashes were kept.
Alvar Tirunagari
:
One of the celebrated Vaishnav temples of Kannyakumari, Alvar Tirunagari temple is one of the nine sung of by the saint Namalvar. It is said that the saint attained enlightenment under a tree enshrined here. It is dedicated to Lord Adinatha and the musical instrument used in the temple festival here called Nadaswaram is made of stone.
Vattakottai
:
6 km from the city, Vattakottai is an 18th century fort overlooking the sea. Those who would like to swim and bathe in the sea can come here, as the sea here is calm and suitable for bathing.