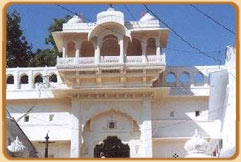 The holy city of Pushkar is also called the city of temples. There are more than 400 hundred temples in Pushkar but the main attraction being the temple of Lord Brahma, the only temple in India dedicated to Brahma. This otherwise sleepy town echoes with hectic activity during the Pushkar Camel Fair and festival.
Brahma Temple Pushkar
The only temple of its type, the Brahma temple is an important pilgrim centre for the Hindus. The Brahma temple is nestled in the Pushkar valley, which lies beyond Nagaparvat and the Anasagar Lake. This place is considered sacred, as it is believed that Lord Brahma, together with all the gods and goddesses performed a Yagna here. Legends also have it that the ancient lake had appeared miraculously, when a lotus fell from the hands of Lord Brahma and dropped into the valley. The Brahma temple, built with marble, is decorated with silver coins and there is a silver turtle on the floor of the temple.
Savitri Temple Pushkar
The Savitri temple is dedicated to Goddess Savitri, Lord Brahma's first wife. It is located on the hill behind the Brahma temple. To reach the temple one has to climb a long series of steps. The site of the Savitri temple provides a panoramic view of the lake and surrounding sand dunes.
Rangji Temple Pushkar
The Rangji temple is very gracious. It is considered very conspicuous, due to its south Indian style of architecture. The temple has a high rising 'Gopuram', typical of southern India.
Warah Temple Pushkar
The Warah temple is another famous temple of Pushkar. It houses an image of lord Vishnu in the incarnation of the wild boar. The temples of Brahma and Warah are considered equally important. It is believed that king Anaji Chauhan built the Warah temple. According to mythology it is a very important temple and is believed that Vishnu came on the earth in the incarnation of Warah (wild boar) to kill the demon Hirnayaksh and liberate the land from his atrocities.
Apteshwar Temple Pushkar
The Apteshwar temple is another important temple of the Pushkar town. It was built in the 12th century and is dedicated to Lord Shiva.