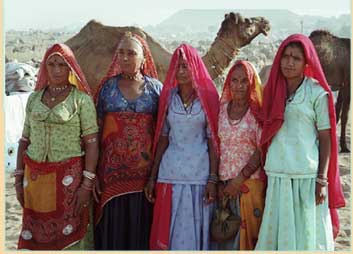 2017 Pushkar Camel Fair begin on Saturday, October 28 and end on Saturday November 4. In a small town located on the edge of Thar Desert in the Indian state of Rajasthan lies Pushkar, a major tourist attraction during the Pushkar Camel Fair. A unique and vibrant experience in itself, this annual fair is sufficient enough to attract thousands of foreigners and Indians alike, for a magical sojourn. This fair is apparently the largest camel and cattle fair in the world and perhaps the largest gathering for a fair from tourists across the globe. Every single attraction about the fair is simply remarkable and fascinating - golden sand dunes, vibrantly dressed men and women, various colors reflecting from every phase of the sun, beautifully bedecked camels and cattle and cultural events.
A visit to the Pushkar Camel Fair is indeed the best way to witness the shimmering and gleaming of rich colors and vibrant life of this secluded part of India. The most fascinating and peculiar sight about the fair is to watch about 50,000 camels converging from throughout Rajasthan into this tiny desert town of Pushkar. While for tourists, the fair serves as a dramatic event, the devotees visit this fair to pay their homage to the different shrines situated here and villagers make endless efforts in turning their livestock, like camels, cows, sheep and goats, into the much needed cash. While men are engrossed in trading livestock, women too are not behind as they try making the most from erecting stalls vending bracelets, handicrafts, clothes, textiles and fabrics.
A plethora of activities are next on the list of the attractions. The most prominent and eye-catching activities are camel races, horse shows, camel and cow beauty contests, acrobatics and camel safaris. Set aside the various activities, the fair is a host to thousands of pilgrims who come to Pushkar to bathe in the holy waters of Pushkar Lake, as an act of absolving their sins. The Pushkar Camel Fair is celebrated on the full moon day of the Kartik month, according to the Hindu lunar calendar. This date falls in the month of November or December as per the Gregorian calendar. The fair takes place on the banks of the Pushkar Lake. Given here are the details of the date of Pushkar Camel Fair in the coming years.
Pushkar Camel Fair Dates
2017:
October 28 - November 4
2018:
November 15 - 23
2019:
November 4 - 12
2020:
November 22 - 30