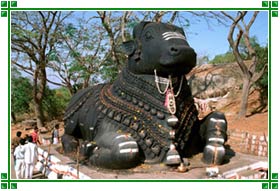 Chamundi Hills
:
The temple of Goddess Chamundeshwari is perched at 1,100-feet above sea level on Chamundi Hills. The royal family's patron deity can be reached by climbing 1,000 stone steps featuring the 3 century old 4.8m high statue of Nandi Bull halfway, which has beautifully carved ornaments adorning it. Another temple nearby is dedicated to Mahishasura, the demon killed by the Goddess.
Srirangapatnam
:
15 km from Mysore, Srirangapatnam features eighteenth century Summer Palace of Tipu Sultan built in the Indo-Saracenic style. A small museum exhibiting Tipu's trivia, the Gumbaz, which is the mausoleum of Tipu Sultan and his father Hyder Ali and Jami Masjid with its slender minarets are other places to visit here.
Brindavan Gardens
:
The most famous terrace gardens of Brindavan Gardens at Krishnarajasagar dam is just 30 minutes drive from Mysore. The watercourses border the well-manicured steps and musical fountains with soft colored lights give the enchanting look to the gardens at night.
Lalitha Mahal Palace
:
The former guesthouse of Wodeyar rulers, the 1930s Lalitha Mahal is now white in color featuring Italian marble staircase, lush well-kept lawns and stately trees. Now it has been converted into a luxury hotel.
Mysore Palace
:
Built in the 9th century, this Indo-Saracenic style Mysore Palace is a fusion of Hindu and Muslim architectural styles and was designed by an English architect. The main building is made up of gray granite and its huge rooms are splashed with lively colors such as turquoise blue, magenta, golden yellow and leaf green. The central hall is its highlight and was once used for marriages and special functions. The temple of the royal courtyard is the place from where the Dussehra procession starts in October. There is a museum too that exhibits royal trivia.