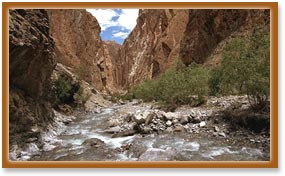 Lying in the rain shadow area of the Great Himalayas, Ladakh is a cold desert area and the most sparsely populated land in the whole world with just two people per sq km. It is perhaps the only place where one can get frostbite and sunburn at the same time while sitting in the sun and stretching out one's legs in the shaded area. The peculiar climatic conditions of the region feature the freezing winds and the burning sun at the same time. The snow-covered expanse of this rugged terrain attracts tourists with its fantastic and panoramic views. This white paradise is surrounded by some of the highest mountain ranges of Great Himalayas and Karakoram ranges that are young and mighty in geological terms.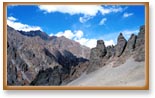 History of Ladakh
An independent kingdom of the 10th century, Ladakh was continuously pestered by the periodical attacks of the Kashmiri Muslims in the 16th century until it was finally annexed to their state in the mid 19th century. One can see distinct influences of the different visitors to the place in the Ladakhi culture.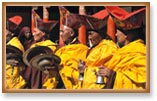 Fairs & Festivals of Ladakh
Fairs and festivals in Ladakhi region have a deep-rooted social impact. They provide opportunities for the people to interact and to enjoy. Due to heavy snowfall in the winter season, most of the people have relatively more idle time on their hands and hence most of the Gompas or monasteries choose this time for their annual festivals though there are summer festivals too.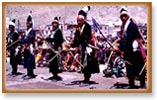 Culture of Ladakh
Ladakhis are known for their cheerful disposition and most of their festivals fall in winters, which serve as an excuse for social and convivial gatherings. In summers, archery competitions and native version of polo are quite common and especially among the Buddhists.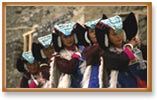 People of Ladakh
The people of Ladakh bear much resemblance to Tibetans and Central Asians with their round faces, short stubby noses and small eyes with pronounced cheekbones. The people of the mountains, they have good stamina are accustomed to manual labor. However, they are considered to be soft and plain at heart.
Leh Capital
Situated at an altitude of 3505 m above sea level, Leh is to the east of Jammu & Kashmir and is the capital of Ladakh. Zanskar River flows through it and breathtaking sparking white snowcapped peaks surround the valley of Leh. A blending of barren desert and well-irrigated farms, the ruined Tibetan style palace of Leh is the first to attract the attention of the tourists.