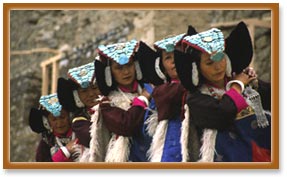 Facial Features
The people of Ladakh bear much resemblance to Tibetans and Central Asians with their round faces, short stubby noses and small eyes with pronounced cheekbones. The people of the mountains, they have good stamina are accustomed to manual labor. However, they are considered to be soft and plain at heart. Originally, Ladakh was believed to be inhabited by the Indo-Aryan race of Dards, who originated somewhere down the River Indus, the regular influx of Tibetan people has resulted in the disappearance of racial characteristics of 'Dards' here and most of the population of eastern and central Ladakh wears Tibetan facial features. fusion of the facial features of different origins. 'Arghons' of Leh are a community of Muslims that are believed to be the descendants of the mixed marriages of local women and merchants who came here from Kashmir and Central Asia.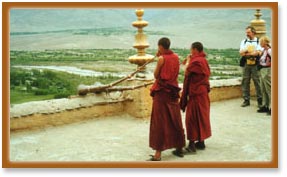 Buddhism - the main religion
Lamaist Buddhists inhabit most of Ladakh and have been believed to come from Tibet originally. The ancient Buddhist inscriptions and frock engravings are found all over Ladakh including the now Muslim-majority areas of Drass and lower Suru valleys. The 'Mani' walls mark the beginning of the Buddhist villages and Gompas or monasteries can abundantly be seen here ranging from a tiny hermitage to the large temple complexes of the monks. The culture and lifestyle of the people of Ladakh is deeply influence by their religion. However, there are a number of Muslim inhabitants here too, especially in the valleys of Drass, Kargil and Suru, mosques and Islamic-style 'Imambaras' can often be seen.
The Status Of Women
Women enjoy a more liberal and independent status in the Leh area, whether Buddhist or Muslim. They not only perform traditional duties of housekeeping and farming but also partake freely in the businesses of the region and are allowed to converse freely with men, even if they are strangers. However, it is only recently that women of the nearby areas including Kargil are coming out of their semi-seclusion status and taking up such jobs.