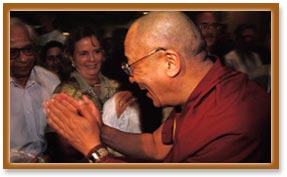 Dalai Lama, the spiritual and political leader of Tibet is believed to be the Living Buddha by his followers and devotees. He is not elected but discovered on the manifestation of certain characteristics as a child. There was a gap of leadership when the 13th Dalai Lama died in 1933 without an immediate successor. It was only in 1937 that Lhamo Thondup was identified as the 14th Dalai Lama. He was born in Takster, a small Tibetan village, to a peasant family on 6th July 1935. The two-year old child was said to be the reincarnation of the 13th Dalai Lama. He was renamed as Tenzin Gyatso and was enthroned on February 22, 1940 at Lhasa. When he was just 15, Tenzin had to bear full responsibility as the Head of the state and raise voice against the Chinese invasion of Tibet.
On March 10, 1959, Dalai Lama was invited by the Chinese military to a theatrical performance in their compound, without bodyguards. Afraid of some conspiracy behind the invitation, huge crowds of Tibetans gathered outside the 'Norbulingka' (Dalai Lama's Summer Palace) to protect him. The event led to the great Lhasa Uprising of Tibet against the Chinese and led to the mass murder of about 87,000 Tibetans. On 17th March, Dalai Lama and his immediate family had to flee from Lhasa in disguise and reached India on 30th March. 80,000 Tibetans followed their Dalai Lama across the Himalayas. Indian Government eventually granted protection to the great leader and offered him a home in Dharamsala, a small town in Himachal Pradesh. It was here that Tibetan Government-in-Exile drafted a constitution for an autonomous and democratic Tibet and holds elections for the Tibetan Parliament.
Dalai Lama started visiting other countries since 1967 and started from Japan and Thailand. Along with preaching Buddhist philosophy and participating in spiritual and ethical discussions, he approached United Nations and urged the world leaders to help him in attaining independence for Tibet. However, in 1988, he made a major compromise in the form of 'Strasbourg Proposal', where he agreed upon genuine autonomy for Tibet, if not independence. Dalai Lama was awarded the Nobel Peace Prize in 1989 for his patient peaceful struggle for Tibet.