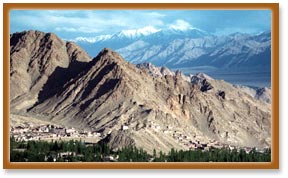 One of the largest provinces of J&K state, Ladakh has mighty peaks of Karakoram in the north and the great ranges of Himalayas in the south. River Indus divides the province into five main regions, namely, Leh (which is also the capital), Nubra, lower Ladakh, Zanskar and Rupshu. It is the perfect place for more adventurous and action-oriented people or those who would like to witness the whole new world of spiritualism and the innermost levels of devotion. A cold and dry desert land, the uneven, ragged, barren expanse of white snow-covered land invokes awe and adrenaline rush at the same time. Ethereally and surreally beautiful, the frozen face of Ladakh has a unique ancient culture flourishing in its lap.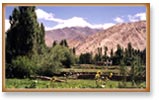 Flora And Fauna
A cold desert, Ladakh has high-speed winds, dry atmosphere, roacky and uneven terrain and very low temperature. Fa-hian, a famous Chinese traveler who wandered to this land in 399 AD described Ladakh as 'the land where snow never melts and only corn ripens'. Situated in mightiest mountains of the world, Himalayas, Ladakh is situated at 4,600 m above sea level and has often been referred to as the 'La-pass' or 'Dakh-land' (land of passes).
Ladakh Monastries
Ladakhi monasteries or Gompas are mostly built on solitary rocks or atop steep hills. They may belong to either the Mahayana or the Hinayana sect of Buddhism but all of them play a major role in the beauty, lifestyle and culture prevailing in the region.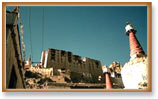 Ladakh Pilgrimage
Number of Buddhist Gompas and monasteries signify the reigning religion of Ladakh as Buddhism. The monastic festivals at Phiyang monastery, Hemis monastery and Chemrey monastery are quite popular. All these monasteries belong to Namghyal dynasty.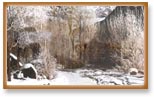 Ladakh Valleys
The highlands of Ladakh is one of the most sparsely populated ones in the whole world with just two people per sq km. Yet, its valleys have such a treasure box of wonders of their own that we thought it best to present the main features of all the major valleys of Ladakh for the benefit of our readers.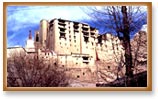 Leh Palace
Leh Palace is one of the most captivating architectural ruins that attract the attention of the tourists almost immediately with its majestic setting at the edge of the Namgyal hill and overlooking the town. Built in the 17th century, it was built as the residential palace for the King Singge Namgyal.