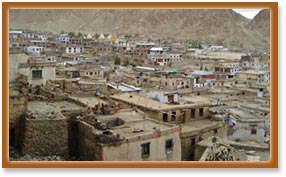 By Air
: Leh is connected by regular flights to and from Delhi (daily), Chandigarh, Jammu (twice a week) and Srinagar (once a week).
By Road
: The Srinagar-Leh road with a stretch of 434 km is the most popular land route to Ladakh and remains open only from early June to November. The steep ascent of 11,500 feet to Zojila is thrilling and exhilarating. One can easily get regular government and private buses along this route. The second most land route to Ladakh is the Manali-Leh road stretching across 473 km. It has been opened recently and remains open mostly from mid-July to mid-October. The trip on this route becomes more interesting with the panoramic views of the snow-clad peaks of the Western Himalayas on the way.
The most important passes and places of Ladakh are Rohtang Pass at a height of 3,978 m on Manali - Leh road, which is a gateway to the Lahaul Valley and Spiti Valley, Bara Lachha Pass at a height of 4892 m, which is supposed to reach the highest regions of Ladakh, Zanskar Range, a camping ground in Zanskar, Lachalang la Pass at a height of 5,059 m, which is one of the most difficult passes to cover, Upshi, from where the road bifurcates to reach Rupshu and Demchok and Leh, the Headquarters of Ladakh.
Best Season To Visit Ladakh
: June to October, as most of the high passes and trekking routes remain closed after November due to heavy snowfall. However, for Chadar trek, the best period for visiting is during January to mid-March.
What To Wear
: Warm clothes and a windsheeter or raincoat along with good waterproof shoes are advisable for trekking, while an extra pair of shoes or sandals, a good spacious rucksack and a warm sleeping bag are also an asset while trekking above 4000 m.