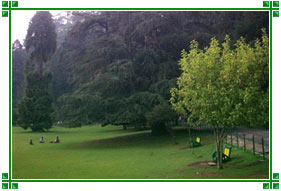 Botanical Gardens
:
Botanical gardens are a major tourist attraction in Ooty and sprawl over 50 acres of land. They are located on the lower slopes of Doddabetta peak, the highest point in Ooty. The lily ponds, the clipped bushes in the form of elephants with raised trunks, thousands of plants including some thirty types of eucalyptus in the gardens, a fossilized tree trunk believed to be 20 million years old and a wooden house made of logs known as 'Toda Mund' are the highlights here.
Rose Garden
:
Spread over an area of 10 acres of land, it has about 2000 variety of roses and lies on the way to the boathouse.
Ooty Lake
:
Mr. John Sullivan, the then Collector of Coimbatore, made the charming artificial lake in 1824.
St Stephen's Church
:
The oldest church in the Nilgiris, it was built in 1829 and consecrated in 1830. Its beam was taken from the palace of Tipu Sultan at Srirangapatnam and the nearby cemetery houses the grave of John Sullivan, the founder of Ooty.
Doddabetta
:
The highest peak in the Nilgiris, it stands at a height of 2623 m above sea level, 10 km from Ooty. It offers a beautiful view of the Nilgiri hill ranges and is surrounded by dense Sholas.
Government Museum
:
The government museum on the Mysore Road was set up in 1989 and has a collection of tribal objects and sculptural arts and crafts of Tamil Nadu. It provides educational benefits to the residing and visiting population of Nilgiris district.
The Mukkurthi Peak And National Park
:
40 km from Ooty, the Mukkurthi Peak and National Park is situated to the south of the Nilgiri Plateau. The Kollaribetta and Nilgiris Peak are other major peaks nearby and a number of little perennial streams flow through them, only to fall into Bhavani Puzha.
Mudumalai Wildlife Sanctuary
:
This sanctuary is situated in the lap of the Nilgiri Hills at the confluence of the Western Ghats and the Eastern Ghats and has a typical physiography of flat land, open grassland, swamp, valley and nullahs.