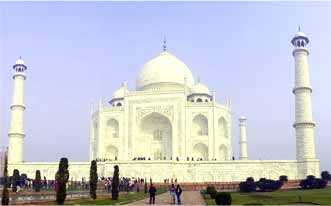 Agra is synonymous with the Taj Mahal. It is the most famous tourism destination in Agra. Apart from that, Agra tour is incomplete without a tour to the Agra Fort. The Agra city, which was the capital of the then Mughal Empire, is full of major and minor monuments. Most of these monuments were built in the time of Emperor Akbar and Shah Jahan.
Tour Attractions in Agra
Taj Mahal
Agra is famous as being home to one of the seven wonders of the world - the Taj-Mahal. The architectural splendor of the mausoleums is unparallel. Taj Mahal, a must visit tour destination was built by Shah Jahan in the memory of his deceased wife, Mumtaj Mahal.
Agra Fort
The Agra fort is built alongside the Yamuna River and stretches almost 2.5 km. It consists of a wall built in red sandstone with several buildings inside. This place is a must visit during your Agra tour. The place is the best to get an insight on the way the Mughal lived in the 16th century.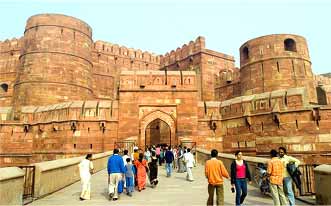 Itmad-ud-Daula
Itmad-ud-Daula is another important tourism destination in Agra. Itmad-ud-Daula mausoleum houses the body of Mirza Ghiyas Beg, the father of Noor Jahan. After Noor Jahan got married to Emperor Jahangir, Mirza Ghiyas Beg was appointed the treasurer of the Empire or Itmad-ud-Daulah; hence this name.
Chini Ka Rauza
This tomb of Afzal khan, the Persian poet and a minister at Shah Jahan's court is a not-to-miss tourism destination in Agra. Chini ka Rauza gets its name from the brightly colored glazed tiles that decorate it.
Excursions Around Agra
Fatehpur Sikri Fort
Emperor Akbar built this fort when he shifted his capital to Sikri. Imposing gateways and palaces were built in red sandstone within this fortified city only to be abandoned a few years later. Do visit it during your Agra tour.
Buland Darwaza
This intimidating gate is a not-to-miss destination during your Agra Tour. Standing 173 feet above its pedestal, this is one of the tallest gates in the world. This was commissioned by Akbar to commemorate the establishment of Aligadh.
Salim Chisti Tomb
This masterpiece of Naqqashi work on marble is the mausoleum of the famous Sufi saint Khwaza Salim Chisti who was much revered by Emperor Akbar. Finely carved, lacy marble screens enclose the sanctum of this revered place.
Panch Mahal
This airy 5-storied structure was probably a court for the royal ladies. The place is designed in a fashion that it gets ample air from all the sides. In front of this building is a court that was used for song, dances and other performances.
How to Reach Agra
By Air
Agra airport is 7 km from the city center and 3 km from Eidgah bus stand. All the major airlines operate daily tourist shuttle flights to Agra, Khajuraho, Varanasi and back. It only takes 30 minutes from Delhi to Agra.
By Road
Eidgah bus stand is the main bus stand of Agra, from where one can take buses for Delhi, Jaipur, Mathura, Fatehpur-Sikri, etc. Buses for Mathura and Delhi also leave from Agra Fort bus stand.
By Rail/Train
Agra is well connected by railways. The main railway station is the Agra Cantonment station. Agra is well connected by rail to Delhi, Varanasi and cities of Rajasthan. Trains like Palace on Wheel, Shatabdi, Rajdhani, and Taj Express are the best choices if you want to reach Agra from Delhi with luxury.