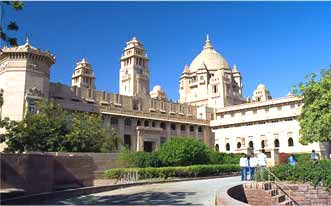 Situated amidst lofty Arravallies, Jodhpur is a must visit tourism destination in India. A tour to Rajasthan is incomplete without Jodhpur tour. The citadel of Rajputana might and glory has many forts and palaces worth visiting. These forts and palaces are the major tourism attractions in Jodhpur. Exploring the forts gives you a feel of the times when the Rajput might was at its peak. Do come to Jodhpur once and we promise you that the splendid beauty and heart-warming hospitality will leave you spell bounded.
Tour Attractions in Jodhpur
Mehrangarh Fort
Spread over an area of nearly 5 square kilometers, Mahrangarh is situated in the heart of the city of Jodhpur. Besides being a landmark in Jodhpur Mehrangarh fort is a must visit for all the tourists. The fort is famous for its gigantic gateways that were built by the various rulers in the course of history.
Jaswant Thada
Jaswant Thada in Jodhpur is a white marble memorial built in the memory of Maharaja Jaswant II in 1899. It is widely believed that Maharaja Jaswant succumbed to injuries at this place only while fighting Emperor Jahangir. This jewel of Jodhpur tourism is a must visit during your Jodhpur tour.
Umaid Bhawan
Made of marble and pink sandstone, the construction of the Umaid Bhawan of Jodhpur started in 1929 and it took 16 years to complete it. The palace was constructed under the food-for-work program to give employment to the famine-struck population. Umaid Bhawan is a must visit tourism destination in Jodhpur also doubles up as the residence for the current royal family.
Mandore Gardens
Mandore gardens are situated about 8 kilometers from Jodhpur and are a not-to-miss tourism spots during the Jodhpur tour. This ancient capital of Marwar is famous for the cenotaphs of the Jodhpur rulers. The beautiful gardens with high rock terraces make it a popular picnic spot as well. Do visit this tourism destination in Jodhpur.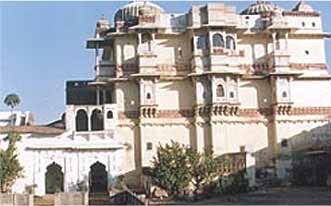 Balsamand Lake
Balsamand Lake, a splendid Jodhpur tourism spot, is about 5 kilometers from Jodhpur. This magnificent lake that is a popular tour spot was dug in the year 1159. The garden that adjoins the lake is not well maintained but is worth visiting. The small but magnificent summer palace that stands by the side of the lake is another place worth touring in Jodhpur.
Excursions Around Jodhpur
Osian
Osian, lies about 58 kilometers from Jodhpur, is a must visit tourism spot around Jodhpur. This place is basically an oasis that is dotted by as many as 15 beautifully sculptured Jain and Hindu temples. Some of the prominent ones are The Sun Temple, Kali temple and the main Jain temple dedicated to Lord Mahavira.
Dhawa
Another must visit tourism spot around Jodhpur for the animal and nature lover is the Dhawa wildlife sanctuary. The Dhawa wildlife sanctuary is situated at about 45 kilometres from Jodhpur and is famous for Desert Rats and Antelopes.
Nagaur
Nagaur is about 150 kilometers from Jodhpur. The imposing fort with beautiful murals of Nagaur is a must see during the Jodhpur tour. Every year in the month of February, a weeklong cattle fair is held at Nagaur that attracts scores of foreigners.
How to Reach Jodhpur
By Air
The Jodhpur Airport is well connected with important metropolitan cities of the country through regular flights.
By Rail/ Train
The city of Jodhpur is connected directly with most of the important cities of India like Mumbai, Ahmedabad, Howrah, Jaipur and Delhi with several express and super fast trains.
By Road
National Highway number 8 reaches Jodhpur from New Delhi via Gurgaon, Jaipur, Ajmer, Beawar and Pali. It is connected to other cities through a network of state and national highways.