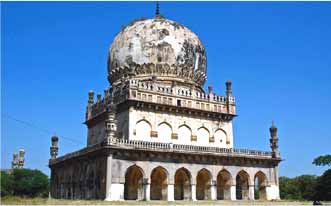 Hyderabad is a must visit tour destination in India. The city of Nizams with its unspeakable splendors is a famous tourism destination in South. The city is known for its culinary and exuberance that it emits. Apart from that, this tour center is also famous as the hub for information Technology in India. So, if you come to India, Hyderabad tour is a must.
Tour Attractions in Hyderabad
Charminar
This must visit Hyderabad tour destination was built in 17th century. Charminar has four wide roads radiating in the four cardinal directions. The structure is square in shape with each of its side measuring 100 feet and a central pointed high arch at the center. The whole edifice contains numerous small decorative arches arranged both vertically and horizontally.
The Mecca Masjid
The Mecca Masjid stands near the Charminar. The construction of this splendid destination was started by Muhammad Qutb Shah in 1617 and completed by Quranzeb in 1693. The Mecca Masjid has a grand edifice with a huge courtyard that can accommodate nearly 10,000 men at prayer.
Hussein Sager Lake
A magnificent tourism destination in Hyderabad, Hussein Sager Lake is one of the largest artificial lakes in India. Hussein Sager Lake lies between the twin city of Hyderabad and Secunderbad. Ibrahim Qutb Shah built it around 1550 in gratitude to Hussein Shah Wali, who had cured him of a mysterious disease. Do include it in your Hyderabad tours.
Excursions Around Hyderabad
Golconda
Traditionally Golconda has been known for its magnificent diamonds all over the world. The mines in Golconda boast off some of the most renowned diamonds in the world. The Kohinoor originally belonged to Golconda, as did the Darya-I-Noor, the Orloff, the Pitt, and the great table of the Nizam. This is a not-to-miss tourism destination near Hyderabad
Warangal
Warangal is situated 157 km northeast of Hyderabad. This splendid tour destination is famous for its thousand-pillar temple that is a specimen of the subtle Chalukya architecture. There is a fort too that has been built by the Kakatiyas, who ruled between 12th and 14th centuries.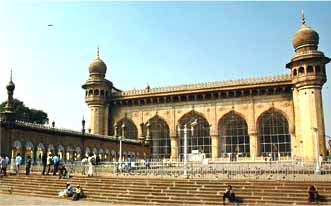 Bidar
Bidar, a marvelous tour destination, is 110 km northwest of Hyderabad. This place was formerly the capital of the Bahmani kingdom, and later on of Barid Shahi dynasty. In the course of history, the Nizams annexed Bidar. It has a vast range of palaces, mosques, baths, schools and tombs within a strong fortified area. The tombs at Ashtur and Gawan's Madarsa have strong architectural splendor
How to Reach Hyderabad
By Air
Hyderabad's Begumpet Airport has a number of daily flights to the major cities of the country. It is well connected to cities such as Delhi, Mumbai, Kolkata, Banglore and Chennai.
By Rail/Train
Hyderabad railway station is well connected to all the major Indian cities. There are a number of daily express trains from Hyderabad to the other cities of India such as Delhi, Kolkata, Chennai, Banglore and Mumbai
By Road
Hyderabad has a large bus terminus and is well connected to other cities in the state by a network of state and national highways. The Andhra Pradesh State Road Transport Corporation buses and buses belonging to other South Indian State Roadways also operate from here.