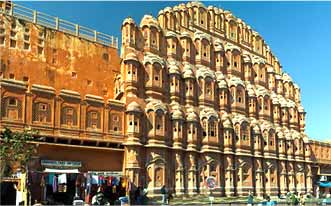 Jaipur tour has always caught the fancy of travelers. Jaipur looks like a fable straight out of Arabian Nights. Splendor, grandeur, love, betrayal and conspiracies, elements that were so common in medieval Rajputana royal households, mark the history of Jaipur. The memorable history, magnificent monuments, subtle designs and heartwarming hospitality are some of the things that make Jaipur tour popular among the tourists. In fact, it is the most visited city in India after Delhi and Agra. So, if you have not visited Jaipur yet, it's high time you start backpacking for Jaipur tour/tourism.
Tour Attractions of Jaipur
Amber Fort
Amber Fort that is situated just off to the Delhi-Jaipur highway. It is the masterpiece of Rajputana architecture. This magnificent fort, built by Raja Man Singh, has many beautiful and intimidating monuments in its premises such as Jai Mandir, Sukh Niwas and Shish Mahal.
Hawa Mahal
Hawa Mahal is a wonder of Rajputana architecture. This multi-layered structure that is based on Beehive octagonal pattern, has hundreds of windows, doors and perforated screens. A must visit destination in your tour to Jaipur city.
Jal Mahal
This startling monument too was commissioned by Sawai Pratap Singh and is situated amid Sawai Man Singh Lake. Completed in the year 1799, the five-storied Jal Mahal was a pleasure palace.
Jantar Mantar
This observatory was build by Sawai Jai Singh and was in the series of similar observatories built in other cities. Completed in 1716, apart from predicting other celestial phenomenon, Jantar Mantar can accurately measure azimuth, inclination and eclipses of sun. One of the main attractions of Jaipur tours indeed!
Birla Mandir
Birla Mandir or Lakshmi Narayan mandir is one of the most beautiful temples in Rajasthan. Built by famous industrialist Ghanshyam Das Birla, this 3-domed temple is dedicated to Hindu deity Lakshmi-Narayan. Must visit destination.
City Palace
The city palace of Jaipur is a magnificent example of fusion architecture that got developed with the blending of Rajputana and Mughal styles. This intimidating fort has many monuments in its premises such as Mubarak Mahal, Chandra Mahal, Diwan-e-Aam and Diwan-e-Khash. Tour to Jaipur is incomplete without a visit to city palace.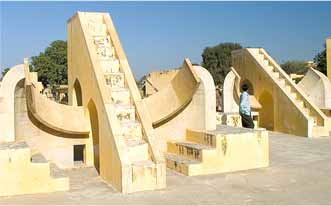 Nahargadh Fort
Perched atop a picturesque hill, the Nahargarh Fort offers a breathtaking view of the city below. Built by Sawai Jain Singh in 1734 A.D, the fort was enlarged and given its present shape by Sawai Madho Singh in the year 1885.
Excursions Around Jaipur
Galta Temple
Located just 12 Kilometers off Jaipur, Galta Temple built by Diwan Kriparam is one of the few temples dedicated to Sun god in India.
Samode
Situated 40 kilometers Northwest of Jaipur, Samode Palace is set amidst fairy tale surroundings. Nestled picturesquely amidst rugged hills, Samode Palace with its stately frescoed walls is one of the most impressive small palaces in whole of Rajasthan.
Bairath
Located 80 kilometers from Jaipur, Bairath is one of the most important Buddhist heritage place in India. The place has the excavated remains of a circular Buddhist temple that is said to be the first of its kind in India and the only in Rajasthan. If you are interested into archaeology, do include it in your Jaipur tours.
Sanganer
Located 16 Kilometers from Jaipur on the Tonk Road, this small town is entered through the ruins of two 'Tripolias' or triple-gateways. Among others, the town has a ruined palace and a group of fine-carved Jain temples.
How To Reach Jaipur
By Air
The Jaipur Airport is known as Sanganer Airport. There are domestic flights that connect Jaipur to Delhi, Kolkata, Mumbai, Ahmedabad, Jodhpur and Udaipur.
By Road
Regular bus service of AC and Deluxe Coaches are available from cities like Delhi, Agra, Mathura, Lucknow, Udaipur and Jaisalmer.
By Rail/Train
Jaipur is connected to cities like Delhi, Agra, Mumbai, Chennai, Bikaner, Jodhpur, Udaipur and Ahmedabad with broad gauge tracks.