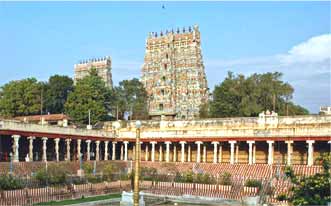 Tamilnadu has been the political as well as cultural hub of Dravidian movement in India. The cultural moorings of this place make it a favorite tourism destination in India. Tamilnadu tour is a must during your visit to India. The high rising Gopurams, the ruins of Temples, quiet fisherman villages and steamy-spicy food; these are what Tamilnadu is all about. So, start backpacking for Tamilnadu tour. We promise you that Tamilnadu tour will be an unforgettable experience.
Tour Attractions in Tamilnadu
Chennai/Madras
Chennai or Madras is the capital of Tamilnadu and a must visit place during your Tamilnadu Tour. Stretched along the famous Bay of Bengal, the place is famous for its quiet and clean beaches, a rarity in India. The must visit tourism attractions in and around the city are Marina Beach, Golden Beach, Valluvar Kottam, Fort Saint Georges, Crocodile park, Mahabalipuram and Kanchipuram
Madurai
Madurai, the temple town of Tamilnadu, is a must visit tour destination in Tamilnadu. The city is famous for Meenakshi temple. Millions from all over the world flock this place every year. Apart from the Meenakshi temple, the other must visit tourism sites in Madurai are Tirumalai Palace, Mariamman Tank and Kodal Alagar temple
Tanjore/Thanjavur
This magnificent city was the capital of erstwhile Chola kingdom. The city has many monuments that tell about glorious past. The most important tour spot in the city is the famous Breehadeshwara temple that was built by Rajraja Chola. The architecture of this temple is based on Dravidian style. Other important tourism sites in the city are The Palace, Sangeetha Mahal, Saraswati Mahal, Library, Raja Museum, Temple Museum, and Schwarz Church.
Kanyakumari/ Cape Comorin
Kanyakumari is the southernmost point of peninsular India. This splendid Tamilnadu tour spot is the meeting point of three water bodies namely the Bay of Bengal, the Arabian Sea and the Indian Ocean. Besides its importance as a pilgrim center, it is famous for its beautiful views of sunrise and sunset over the waters. The most important tour site in Cape Comorin is Kanyakumari temple. This temple is the masterpiece of Dravidian architecture. Apart from that, Vivekanand Rock is another must visit tour spot that is situated 12 Kilometers off the coast of Kanyakumari amidst Indian Ocean.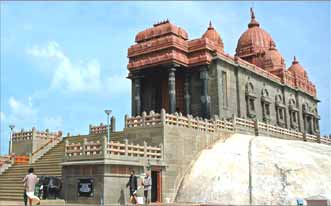 Rameshwaram
The sacred town of Rameshwaram, a not-to-be-missed Tamilnadu tourism destination, has one of the most venerated temples in India. A fine example of Dravidian architecture, the Rameshwaram temple is renowned for its many-pillared corridor that is about 1220 meters in length. Apart from that, the other must visit tour sites in and around Rameshwaram are Agnitheertham, Shri Ramnathswamy Temple, Gandhamadhana Parvadham and Kothandaramaswamy Temple.
Tiruchirapalli/Trichy
Tiruchirapalli or Trichy, situated on the banks of river Kaveri, is another must visit site in Tamilnadu. The city is famous for the Ranganatha temple at Srirangam. Apart from that, other must visit tour spots in the city are Rock Fort, Sri Jambukeshwara Temple and Tiruvannaikaval.
Ooty/ Udhagmandalam
Ooty, the queen of the hill stations of South India, is situated in the Nilgiris at an altitude of 2240 meters. This not-to-be-missed Tamilnadu tour destination is noted for its extraordinary scenic beauty and salubrious climate amidst the Nilgiris, popularly called Blue Mountains.
How to Reach Tamilnadu
By Air
Chennai, Madurai and Kanyakumari have domestic airports. Regular flights from cities like Delhi, Kolkata and Mumbai are available. In addition to Indian, the government owned airlines; nearly all the private airlines offer their service in Tamilnadu.
By Train/Rail
Cities like Chennai, Rameswaram, Kanyakumari, Madurai and Tanjore are well connected through railways. Several express and super-fast trains connect these to cities like Delhi, Kolkata, Bangalore, Hyderabad and Mumbai.
By Road
Various buses and cabs operated by Tamilnadu State Transport Corporation and other transport corporations of the neighboring are available in Tamilnadu. Tamilnadu is well connected to its neighboring states such as Kerala, Andhra and Karnatka through a good network of State and National highways.