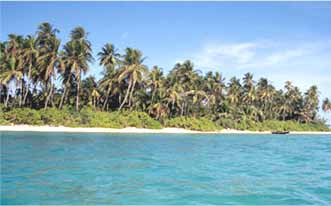 Lakshadweep or 'The Hundred Thousands Island' is a must visit tour destination in the Indian Ocean. The coral islands, quiet surrounding, clean beaches and heart-warming hospitality are something that makes Lakshadweep a not-to-be-missed tourism spot in the Indian Ocean. Lakshadweep is actually a collection of hundreds of habitable and barren islands that has been collectively declared a union-governed territory of India. Do take a Lakshadweep tour and we promise you will be left asking for more of it.
Tour Attractions of Lakshadweep
Kavaratti
Kavaratti, the capital of Lakshadweep, is the most popular tourist spot in the entire Lakshadweep. Kavaratti is beautiful calm lagoon and forms an ideal spot for water sports, swimming and basking on warm sandy beaches. Two of the most important monuments that are worth a tour in Lakshadweep are Ajara and Jamnath mosques. The woodcarvings in both of these buildings are magnificent and unique in themselves.
Kalpeni
Kalpeni is a not-to-be-missed tourism spot in Lakshadweep. The place is famous for its scenic beauty. The island has small islets called Tilakkam & Pitti as well as an uninhabited island named Cheriyam in its vicinity. A huge shallow lagoon encloses all of them. Nevertheless the most magnificent feature of Kalpeni is the huge storm bank of coral debris that is scattered along its eastern coastline.
Agatti
Agatti is a 6 kilometers long island that is popularly called 'The Gateway of Lakshadweep'. Agatti Island, a must visit Lakshadweep tourism destination, is one of the most striking features in Lakshadweep. Agatti and its satellite islands of Bangaram, Thinnakkara & Parali offers a breathtaking spectacle of sparkling coral reefs, turquoise blue lagoons, silvery beaches and lush green coconut palms that sway to the rhythm of the sea. This is the only island in Lakshadweep that has an airport.
Kadmat
Kadmat is a dream-come-true tour spot in Lakshadweep. Lagoons from all sides surround this island. In addition to the beautiful shallow lagoons on the western and eastern sides, that form an ideal spot for water sports, there are the long sandy beaches and the sand banks on the southern tip that are famous for sunbaths. Kadmat is also known for its tourist huts that are aesthetically situated amidst coconut palm groves on the beaches that face the lagoon.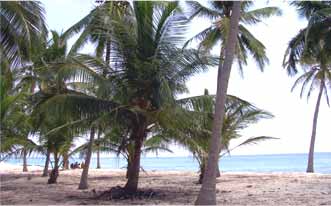 Bangaram
Bangaram, a magnificent Lakshadweep tour spot, is an uninhabited island and one of the few that has been opened to the foreign tourists. This not-to-be-missed tourism spot has been ranked among the best getaways of the world. Bangaram is a raindrop-shaped island that has superb beaches and beautiful lagoons. It offers utmost privacy and pollution free environment for tourists. It is the only island that is out of prohibition orders in Lakshadweep.
Andrott
Andrott, a superb tourism getaway in Lakshadweep, is the island that is nearest to the mainland India. This island has an east-west orientation that is so different from the rest that have the north-south inclination. The tomb of Hazrat Ubaidullah and the Buddhist archaeological remains are something worth visiting during your tour to the longest island in Lakshadweep.
Minicoy
Minicoy, the second largest island, is at the southernmost point in Lakshadweep. This crescent shaped Lakshadweep tourism destination has one of the largest lagoons in the entire Indian Ocean. There is a small islet to its south that is known as Viringili. This island is a must during your Lakshadweep tour if you want to know about Maldives' culture.
How to Reach Lakshadweep
By Air
Lakshadweep is well connected by Air from Cochin. Indian operates its daily flight to Agatti. From Agatti, passengers are transported to Bangaram by fast boat and brought back to Agatti at the time of departure. A helicopter service links Agatti to other islands.
By Ship
Passenger vessels ply between Cochin and Lakshadweep. Rates vary according to the type of accommodation. Catamaran speed vessels operate as per monthly schedule between major islands in the northern group. Two new ships have also been ply on this route.
During monsoons, ship based tourism is closed but helicopter services are available.