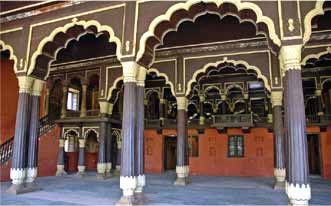 Bangalore is a must visit tour destination in India. Popularly known as 'Silicon Valley' of India, Bangalore is visited by scores of foreigners every year. This not-to-be-missed tourism destination is loved for its weather that remains fine anytime the year. From a sleepy town in the 60's, Bangalore has turned itself in to one of the fastest growing cities in the world. The city boasts off some of the magnificent tourism marvels.
Tour Attractions in Bangalore
The Bangalore Fort
The Bangalore Fort was built by Kempe Gowda and expanded by Tipu Sultan. Within its walls is the well preserved 16th century Ganapathi Temple. This place is a must visit in your Bangalore tour.
The Bangalore Palace
A Wodeyar king built it in 1887 on the 400-acre space. The palace was built in the Tudor style, complete with Gothic windows, foiled windows, battlements and turrets. This summer palace has been constructed largely of wood and is famous for its carving and paintings. Tour to Bangalore is incomplete without a visit to this place.
Lal Bagh
Hyder Ali laid out the plan of this famous botanical garden. His son, Tipu, brought numerous varieties of plants from all over the world and planted them in this garden. The garden today houses over 1000 species of flora that include rare and enchanting collection of tropical plants, trees and herbs. The Glass House, modeled along London's Crystal Palace, is the center of attraction in this 2400-acre park. Don't miss this Bangalore tour destination.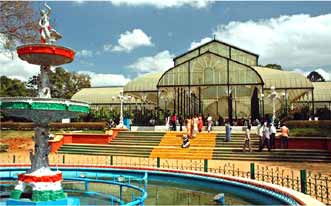 The Gangadhareshwar Temple
Known for its four monolithic pillars and rare idol of Agni, the God of fire, this temple was built by Kempe Gowda. This is a must visit tour destination. A unique phenomenon is witnessed here on Jan 14th every year when the rays of the setting sun enter through the window, pass between the horns of the Nandi and shine on the Shiva lingam.
Excursions Around Bangalore
Tipu's Palace
Built in 1791, this beautiful two-storied ornate wooden structure with exquisitely carved pillars, arches and balconies was one of Tipu's favorite summer retreats. The palace, a not-to-be-missed tourist destination, is largely intact in spite of numerous assaults made on this palace by the various armies.
Muthyalamaduvu
Also known as the Pearl Valley, Muthyalamaduvu is 40 Kilometers away. The beautiful cascading waterfalls surrounded by verdant settings provide an ideal picnic getaway.
Channapatna
Channapatna is a bustling town situated 60 kilometers southwest from Bangalore. This Banglore tour destination is famous for its eye-catching lacquer ware and handcrafted wooden toys. It is also a major silk hub of Karnataka.
Mekedatu
Mekedatu is a natural wonder. The Cauvery River squeezes through a narrow gorge before traversing its southbound terrain, at this place. The view is breathtaking. This must visit tour destination lies 98 Kms south of Bangalore.
How to Reach Bangalore
By Air
Regular flights operate from Bangalore to Calcutta, Bombay, Delhi, Chennai, Hyderabad, Trivandrum, Panaji, and Kochi etc. Besides, it is also connected to major cities of Eurasia and America. The airport is just 6 kilometers from the city.
By Rail/Train
Bangalore is connected to all major Indian cities by rail. Several super fast and express trains connect Bangalore to Chennai, Delhi, Hyderabad, Mumbai and other destinations. The City Railway Station is the main terminal in Bangalore.
By Road
Major National Highways connects Bangalore to Chennai and Mumbai. State and national highways also connect other cities and towns of the state to the one in neighboring states.