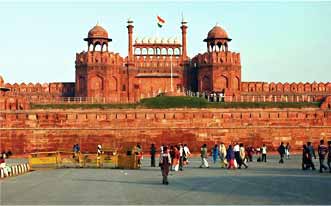 Any tour to India is incomplete without Delhi Tour. New Delhi, the capital of India, is a city of splendors. It is a city that has been built and razed to the ground several times in the course of history. Tourism in Delhi consists of tour to Delhi as well as excursions around Delhi. Tourism in Delhi has many facets. On the one hand you can view historic marvels where as on the other hand you can experience the subtlety of relatively modern Victorian architectures.
Tour Attractions in Delhi
Red Fort
Situated in the historic walled city area, the Red fort was constructed in 17th century by Emperor Shah Jahan. This red-stone fort has many monuments such as Diwan-e-Aam, Diwan-e-Khash and Moti Masjid in its premises. It is a must visit tourism destination in your Delhi tour.
Jama Masjid
Built out of red-stone, it was commissioned by Emperor Shah Jahan in the 17th century. With dominating domes and sky-touching minarets, Jama Masjid is the largest mosque in India. This monument is famous for it arches and flowered motifs. Do make it a part of your Delhi tour.
Qutab Minar
Built out of red-stone Qutab Minar was commissioned by Qutab-ud-Din Aibak, the first Emperor of the sultanate era. A must visit tourism destination in Delhi; Qutab Minar stands 293 feet from its base. The famous Quwwat-ul-Islam mosque surrounds this gigantic minaret.
India Gate
India Gate was built in 1931 and was designed by Sir Edwin Lutyens, the renowned British architect. The 42-meter structure built to commemorate the victory of allied forces stands in the west end of Rajpath. This splendid destination was previously officially known as the All India War Memorial. A must visit destination in you Delhi tour itinerary.
Lotus Temple
Located near the famous ISCON, Lotus temple is famous throughout the world for its manifestation in design. The structure is situated in the sprawling lush-green 26 acres campus. As you tour different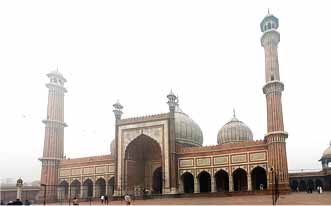 parts of Delhi, don't forget to explore the Lotus temple.
Connaught Place
Connaught Place has a long and distinguished history behind it. Named after the Duke of Connaught, a member of the British royal family, this market was designed by Designed by Robert Tor Russell in collaboration with WH Nicholls. This sprawling circular market, a must for your Delhi tour, was the largest of its kind in India at that time. And in spite of numerous big malls, it continues to be the largest in India.
Excursions Around Delhi
Sohna Lake
A not to miss tour destination, Sohna lies atop Arravallies. This is slowly picking up as a picturesque health-cum-holiday resort. Sohna got its name from a stream nearby whose sands are said to have littered with Gold. Sohna in Hindi means Gold. This is the last remnant of the Arravallies Northern ridge.
Surajkund Lake
The Surajkund Lake is just 20 kilometers from the heart of Delhi. Contrary to the popular belief it is not a lake but a man-made reservoir. The name in Hindi means 'Reservoir of the Sun'. The Rajput King Surajpal built it in the pre-Sultanate days. The tentative date is kept around 10th century. The Tomaras were the first people to revitalize Delhi.
Badhkal Lake
Badhkal Lake in Faridabad District of Haryana is one of the popular tourism getaways near Delhi. It is situated in the state of Haryana just 35 kilometers off Delhi. The lake complex is very picturesque and is fit for people wanting solitude. This serene locale is worth visiting.
Sultanpur Sanctuary
Sultanpur Bird Sanctuary, located 50 kilometers off Delhi, is a haven to a variety of domestic and migratory birds. This sanctuary has been modeled on the famous Bharatpur bird sanctuary that is just 100 kilometers as the crane fry. Artificial mound have been put and then turned into a green glade. The marsh has been converted into a water bodies.
How to Reach Delhi
By Air
All the major National and International Airlines have their flights operating from Delhi's Indira Gandhi International Airport.
By Rail/Train
The Indian Railway with their modern and organized network connects Delhi to all major and minor destinations in India. There are three important Railway Stations in Delhi namely New Delhi, Old Delhi and Hazrat Nizamuddin Station.
By Road
Delhi is well connected by road to all major destinations in North India. The Inter State Bus Terminus (ISBT) is located at Kashmiri Gate, Sarai Kale-Khan and Anand Vihar. Delhi Transport Corporation provides frequent bus services through Air Conditioned, Deluxe and Ordinary Coaches.