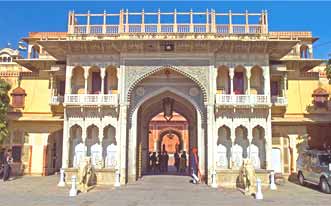 Udaipur is one of the most picturesque locales in Rajasthan. Taking an Udaipur tour is a must for tourists visiting Rajasthan. Splendid Arravallies, intimidating peaks and crystal clear lakes are part of Udaipur Tourism. Udaipur that is also known as Lake City is one of the favorite tour destination in India. Udaipur that was laid out in the year 1559 by Maharaja Udai Singh was the capital of the then Mewar. The Udaipur tourism consists of tour attractions in Udaipur as well as excursions around Udaipur.
Tourism Attractions of Udaipur
Lake Palace
Maharajah Jagat Singh II built the Lake Palace or the Jal Mahal in 1754 that stands tall in the middle of Lake Pichola. Surrounded by the rugged hills of Arravallies, the place is a must visit during the Udaipur tour. The Palace is constructed using pretty white marble with excellent handicrafts hanged all over the walls.
City Palace
The jewel of Udaipur tourism, City Palace is situated on the banks of Lake Pichola. This magnificent and inspiring citadel has been designed with the help of mirror and glass works. Built in 19th century, City palace is known for its subtle symmetric patterns.
Jag Mandir
Jag Mandir is another must visit locale in Udaipur tourism. Jag Mandir is an island palace that is located in Pichola Lake and was constructed by Maharana Karan Singh for the hideout of prince Khurram. It highlights the best form of carvings including rows of elephants that flank the main entrance.
Fateh Prakash Palace
A perfect example of luxury and style, Fateh Prakash Palace is another must in Udaipur Tour. Maharana Fateh Singh was the real occupant of this palace and stayed there between 1884 and1935 A.D.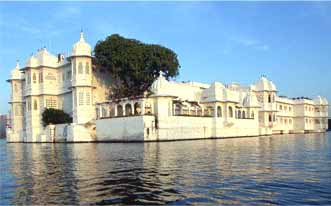 Crystal Gallery
It is located in the Fateh Prakash Palace and maintains huge number of crystal items. Maharana Sajjan Singh has ordered these crystals from the F & C Osler England. It includes all sorts of items such as couches, sofa sets, dinning table, dressing tables, fountains and beds.
Excursions Around Udaipur
Shilpagram
The latest addition to the Udaipur tour is a visit to Shilpagram. Shilpagram is designed on the concept of village. Built up on 70 Acres of land in the vicinity of Arravallies, the place is famous for its terracotta work that is mainly done in dark brown and dark red sand material.
Ranakpur
A must visit tourism destination; Ranakpur is known for its sculptured Jain temples. These were built during the reign of Rana Kumbha that have as many as 29 halls and 1,444 pillars.
Haldighati
40 km from Udaipur, Haldighati has secured its place in history forever. It was at Haldighati in 1576 that Maharana Pratap had a fierce battle with Mughal Emperor Akbar. Since then, the place has turned in to a tour destination.
Ekling Ji
22 km from Udaipur, high walls surround a temple complex of 108 temples that is known as Ekling Ji. Built completely out of red sandstone, in the year 1734, the temples are devoted to the regal deity Ekling Ji.
Nathdwara
Located 48 kilometers from Udaipur, this temple is one the most distinguished Vaishnava shrines of Lord Krishna and a not-to-miss destination during Udaipur tour. Thousands of pilgrims visit the shrine during the festivals.
Kumbhal Garh Fort
Located 84 km from Udaipur, Kumbhalgadh fort was built by Maharana Kumbha. It is the second most important fort in Mewar region after the Chittaurgarh Fort. Crowning the Arravallies, the fort was tough to conquer because of the seven great gates that guard its entrance.
Jaisamand Lake
48 km from Udaipur, it is an artificial lake built in 17th century by Maharana Jai Singh. The marble 'Chhatris' along the shores adds elegance to this second largest manmade lake in Asia.
How to Reach Udaipur
By Air
Debock Airport is 24 km from the city center; Daily flights connect Udaipur with Jodhpur, Jaipur, Aurangabad, Mumbai and Delhi.
By Rail/Train
Udaipur is directly linked by rail with major cities such as Delhi, Mumbai, Jaipur, Jaisalmer, Lucknow, Gwalior and Agra.
By Road
Udaipur is connected to major cites such as Delhi, Jaipur, Agra, Mathura and Jaisalmer through A/C and deluxe coaches.