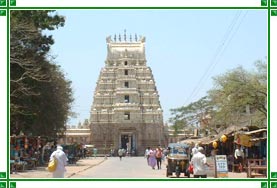 Ranganatha Temple
:
The most famous temple on the southern bank of the River Pennar, the Galigopuram of the temple is 29 m high and has seven gold Kalasams. The most beautiful chamber of the temple is the Addalamantapam (mirror parlor), walled with high-class mirrors arranged at proper angles to reflect only the deity seated in an elevated ornate seat for the Lord in the centre.
Nellapattu Sanctuary
:
Nelapattu Bird Sanctuary in Nelapattu village is 20 km from the Pulicat Bird Sanctuary and is one of the largest pelican habitats in Southeast Asia sprawling across an area of 404 km.
Penchalakona
:
8-km from Nellore, the famous Penchalakona Temple at the foothills in the Panchalakona Valley has scenic surroundings and pleasant summer climate.
Jonnawada
:
19 km from Nellore, the Mallikarjuna Kamakshidevi Temple is an important pilgrim centre. The annual 10-day festival here is celebrated in April or May.
Sangam
:
Located at the confluence of the Boggeru, Beeraperu and Penneru Rivers, it features the Kanigiri Reservoir and the Chola Temple with a 150 cm tall artistically carved idol of Nandi.
Pulicat Lake
:
Famous as the second largest brackish water lagoon in India, it features backwaters of the sea and is a well-reputed feeding and breeding ground for a variety of aquatic and terrestrial birds.